Check your monthly newsletter for more information on our Cultural Trips as, due to Covid, we are unable to schedule all events far in advance.
Upcoming Event: 
WADSWORTH FALLS STATE PARK    1:00 PM   Thursday November 5, 2020 
721 Wadsworth Street — Middletown     Cost is FREE – Bring your own lunch!
With over 250 acres of fields, woods, and trails, it is famous for its Wadsworth Falls, located in the Park's southwest corner.  Join us for a hike through this beautiful park! Meet at the Park's Main Entrance at 10 am and we will walk along the Red Trail to the Falls, and back again. The trail is wide and has a hard-packed dirt surface, so please wear sturdy shoes!  Weather permitting, we will picnic afterwards.  There is ample parking and available toilets. Admission is free.
Recent Events: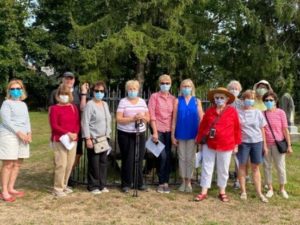 CYPRESS CEMETARY TOUR – Monday, September 14, 2020 Located in Old Saybrook, this is one of the oldest, continuously operating cemeteries in North America and is listed on the National Register of Historic Places. Our one-hour tour was conducted by Torrance Downes.  (A donation of $5 per person went to the Saybrook Historical Society.)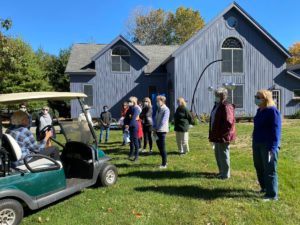 SCULPTURE GROUNDS TOUR – Thursday, October 8, 2020   Next door to the Lyme Academy of Fine Arts, Studio 80 and its Sculpture Grounds encompass 4.5 acres along the Lieutenant River. Designed by sculptor Gilbert Boro, the grounds feature 66 contemporary art sculptural works by Mr. Boro, our Guide, and other visiting artists. We both saw and could touch the exhibits. (A donation of $5 per person went to the Lyme Academy of Fine Arts.)