Author Fiona Davis, an LCV favorite —who has spoken both at a past LCV Book Author Luncheon and 2020 Zoom book group meeting— is again joining us!
On Wednesday, February 1st, at 1 pm, via Zoom,
Fiona will join Afternoon Book Group leader, Pat Prendergast, during the second half of the Zoom discussion of The Magnolia Palace, her thriller novel about the Frick Collection.
All LCV members are invited to attend! Please send your email address to Co-Chair Sue Aberbach by January 30th if you are not a book group member and want to attend. Co-Chair Elaine Quayle assisted in coordinating this event. (Attendees may even get a preview of Fiona's upcoming book, The Spectacular !)
---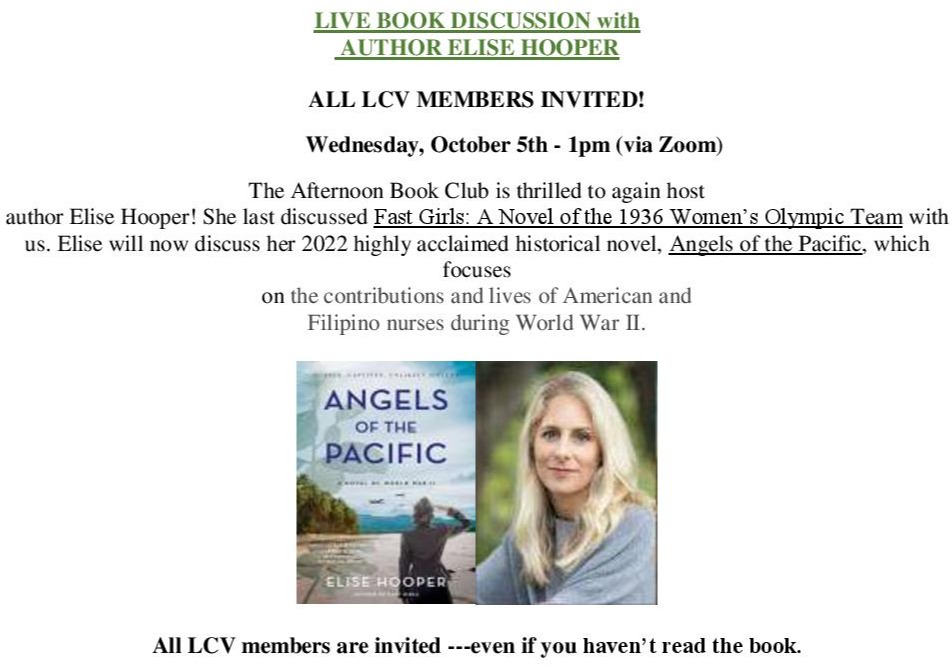 ---
OCTOBER LCV MEETING
Date: Wednesday, October 12th, 2022
Place: Saybrook Pavilion
Address: 155 College St., Old Saybrook
Time: 7:00 pm
END OF LIFE CARE & MEDICAL AID
IN DYING – CT LEGISLATION
Speaker: Tim Appleton, Director,
Compassion and Choices
Website: https://www.compassionandchoices.org
Comparing Palliative Care (i.e. Hospice) and the proposed State of CT legislation on Medical Aid in Dying for patients with 6-month life prognosis; and the ethical considerations.
---
MAY ANNUAL MEETING
Wednesday, May 11, 2022
4:00 PM
Acton Library – 60 Old Boston Post Road
Old Saybrook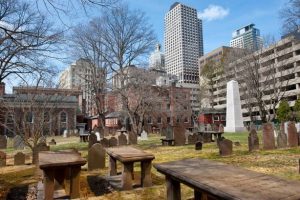 Topic: "Uncovering Their History:
Black and Indigenous Women in Hartford's Ancient Burying Ground,
1640-1815"
Speaker: Dr. Katherine Hermes, Professor of
History, Central CT State University
The May Annual Meeting will feature a fascinating look at a little-known facet of Connecticut history. Dr.Hermes will cover the 2019 website created for the Ancient Burying Ground Association in Hartford: www.africannativeburialsct.org. The site links profiles, narratives, genealogical trees, and Relationship Trees of people of color buried in Hartford. She will then focus her presentation on some of the particular lives of women that were uncovered during her research.
Please plan to join us – note the new venue and time – for a look at women of color in the early days of our state. Please plan to wear your mask at this Annual Meeting.
—Gerri Smith, Program Chair
---
FEBRUARY 2021: LIVE BOOK AUTHOR EVENT
February 3, 2021 – 1pm via Zoom / Afternoon Book Group Author Elise Hooper discusses Fast Girls: A Novel of the 1936 Women's Olympic Team
Elise's novel explores the women who are members of the 1936 U.S. Olympic track and field team and follows the experiences of three real-life women athletes who meet at the Nazi-sponsored Berlin Olympics. Combining historical background and compelling characters, Fast Girls is a memorable tribute to these women heroines.
---
FEBRUARY 2021 SPEAKER & PROGRAM: BLACK HISTORY MONTH
February 10, 2021 – 12pm via Zoom
Speaker: Tom Schuch – "Connecticut's Version of the Green Book"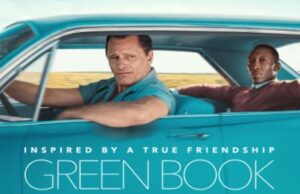 Tom is a New London native and graduate of Georgetown University, with a longstanding interest in social justice issues. Tom has an avid interest in history, particularly John Brown and the Civil War, but as a lifelong Sherlock Holmes fan, his area of special interest has become unknown, hidden, forgotten or suppressed local history. This interest is what led him to the discovery of previously unknown or forgotten stories of New London history, and Southeastern Connecticut's Green Book sites.