Lower Connecticut Valley Branch
Scholarship Committee Education Opportunities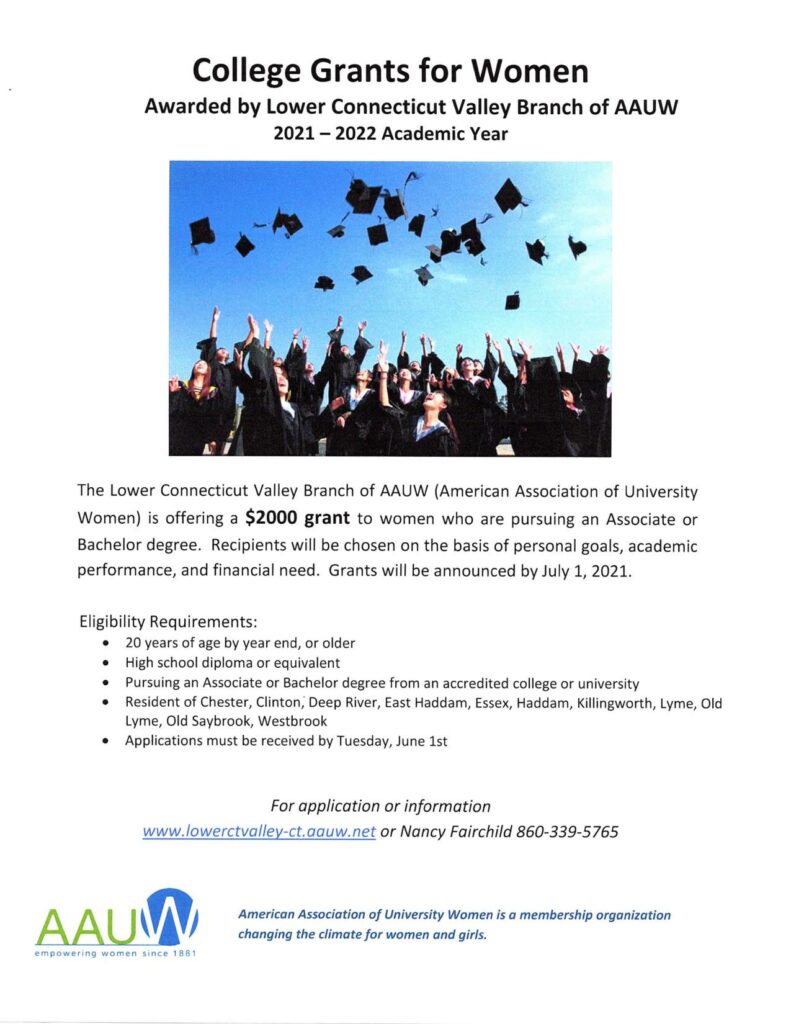 ---
Education Grants
The Lower Connecticut Valley Branch supports women by offering college grants to students who are pursuing their undergraduate education at an accredited college or university.  Applicants must be at least 20 years of age by year end, hold a high school diploma, be pursuing an Associate or Bachelor degree, and reside in Chester, Clinton, Deep River, East Haddam, Essex, Haddam, Killingworth, Lyme, Old Lyme, Old Saybrook, or Westbrook.
The grant process for the academic year begins in March and requires that applications be submitted no later than June 1, 2021.  Recipients are selected on the basis of personal goals, academic performance, and financial need.  Awards are announced  by July 1, 2021.
Additional information is listed in the flyer below.  An application follows and contains instructions on completion and submission.
---
National Conference for Collegiate Women Student Leaders (NCCWSL)
The Lower Connecticut Valley Branch supports women by providing scholarships to students to attend the National Conference for College Women Student Leaders.  This is an annual conference that focuses on advocacy, health, and wellness, while building leadership skills in women allowing them to succeed on campus, within the community, and in their careers.
Students are identified and selected in December, and registered by mid February.  The two day conference will be held virtually on May 25th and 26th, 2021.  For information visit www.nccwsl.org or contact Sue Aberbach at 860-367-4433.
These educational opportunities are administered by the Scholarship Committee of the Lower Connecticut Valley Branch.